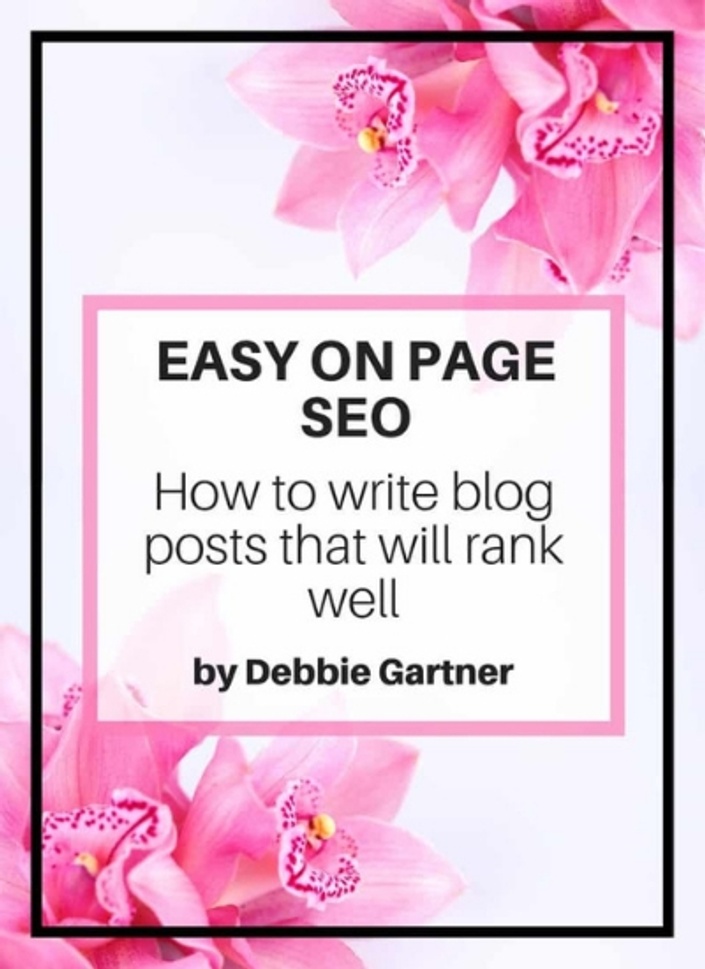 Easy On-Page SEO
How to write blog posts that will rank well
Easy On-page SEO for beginners and intermediates
An easy to follow approach to learn On-Page SEO so your articles can rank on Google (and other search engines)
SEO is not as complicated as you think...
You probably keep hearing that you need to optimize your posts for Google. Or maybe you've been blogging for a while and learned a bit about SEO, but you're still not sure if you're doing it right. Well, then you've come to the right place.
I've been learning, implementing and teaching SEO since 2010. It has worked very well for me as I typically generate more than 500,000 page views per month on my site.
I've helped thousands of bloggers. And, one of the most common fears is that Search Engine Optimization (SEO) is hard. I'm here to tell you it's not!
SEO is pretty logical once you "get it." After that, it becomes rinse & repeat. My goal is to demystify the process and show you how simple it is to learn SEO.
I've coached more than 100 bloggers on SEO. Some have been brand new bloggers and some have been blogging for more than a decade but they all said to me, "Now I get this. It wasn't as bad as I thought. You make it so straight forward, I wish I had learned this much sooner."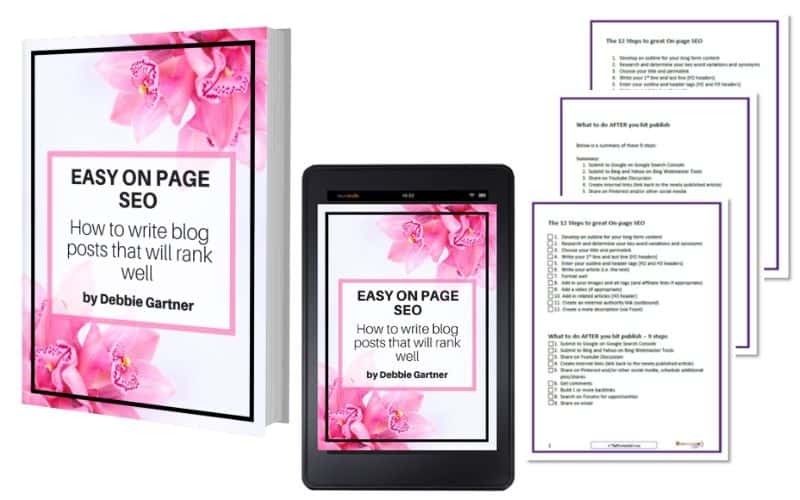 Why is SEO traffic so important?
SEO traffic is more valuable than social media traffic. You are getting targeted customers who are much more likely to buy or convert. As a bonus, they stay on page longer giving you a higher RPM if you have ads. I would conservatively estimate that every pageview from organic traffic is worth at least 3x the traffic from Pinterest. (based on higher affiliate commissions, higher time on page, pages per session).
That is a conservative estimate. And, if I had higher earning affiliates (I get a lot from Amazon), I could easily see that figure doubling. And, let me state for the record that I love Pinterest traffic. But, I absolutely adore SEO traffic!
SEO can lead to much more traffic, and it becomes cumulative. Every time you write a new post, it's an opportunity to keep leveling up on your traffic and income. Further, because your posts link to each other, as one grows, it creates synergy with your other articles.
Organic traffic is more consistent, sustainable and passive. Once you get SEO traffic it can last for years to come. Very little additional work needs to be done over the years (unlike Pinterest where you need to create new pins, schedule all the time, etc.)
It's important to diversify your traffic. Things always change, and the more sources of traffic you have, the better off you are.
SEO traffic is more challenging for your competitors to copy.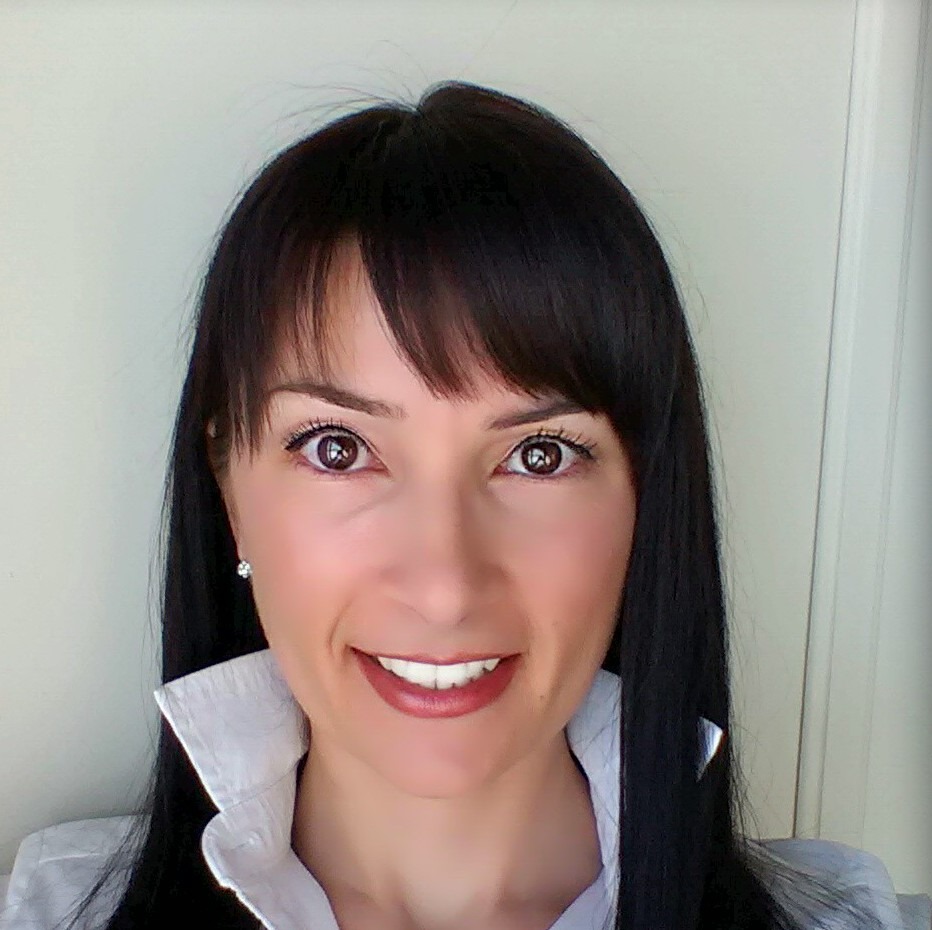 "Debbie Gartner's SEO course is very informative and super easy to follow. Her insight and suggestions are sure to attract more traffic to my site and help me achieve my goals. Of the many courses I've taken in the last year, this should have been my only course of action! Actually, it's the easiest course to follow that I have done to date!"
- Tori Watson, Essence of Your Health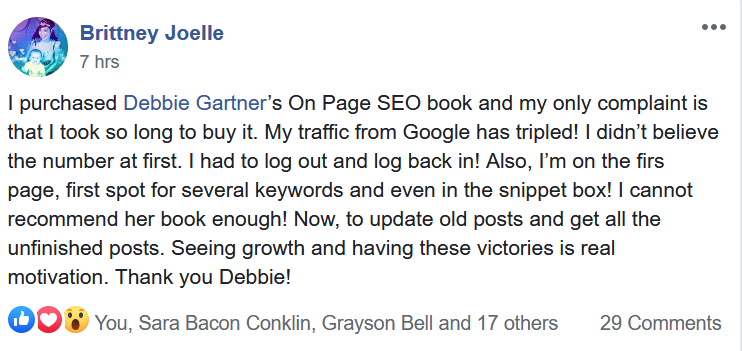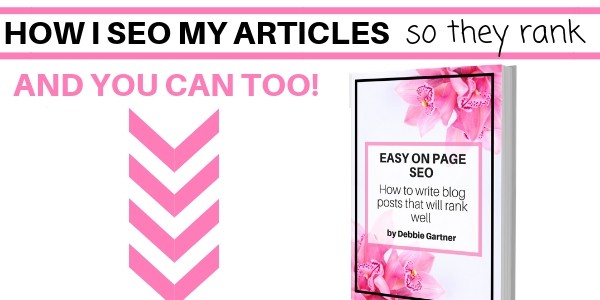 What does this SEO ebook teach?
The easy 12 step process to write blog posts that will rank

The 9 steps you should do right after you publish your post

The replacement for Google + and how to use it

12 useful tips and free tools that most people don't know about

Why long form content is so valuable
You can use SEO to get over 500,000 pageviews per month… I do!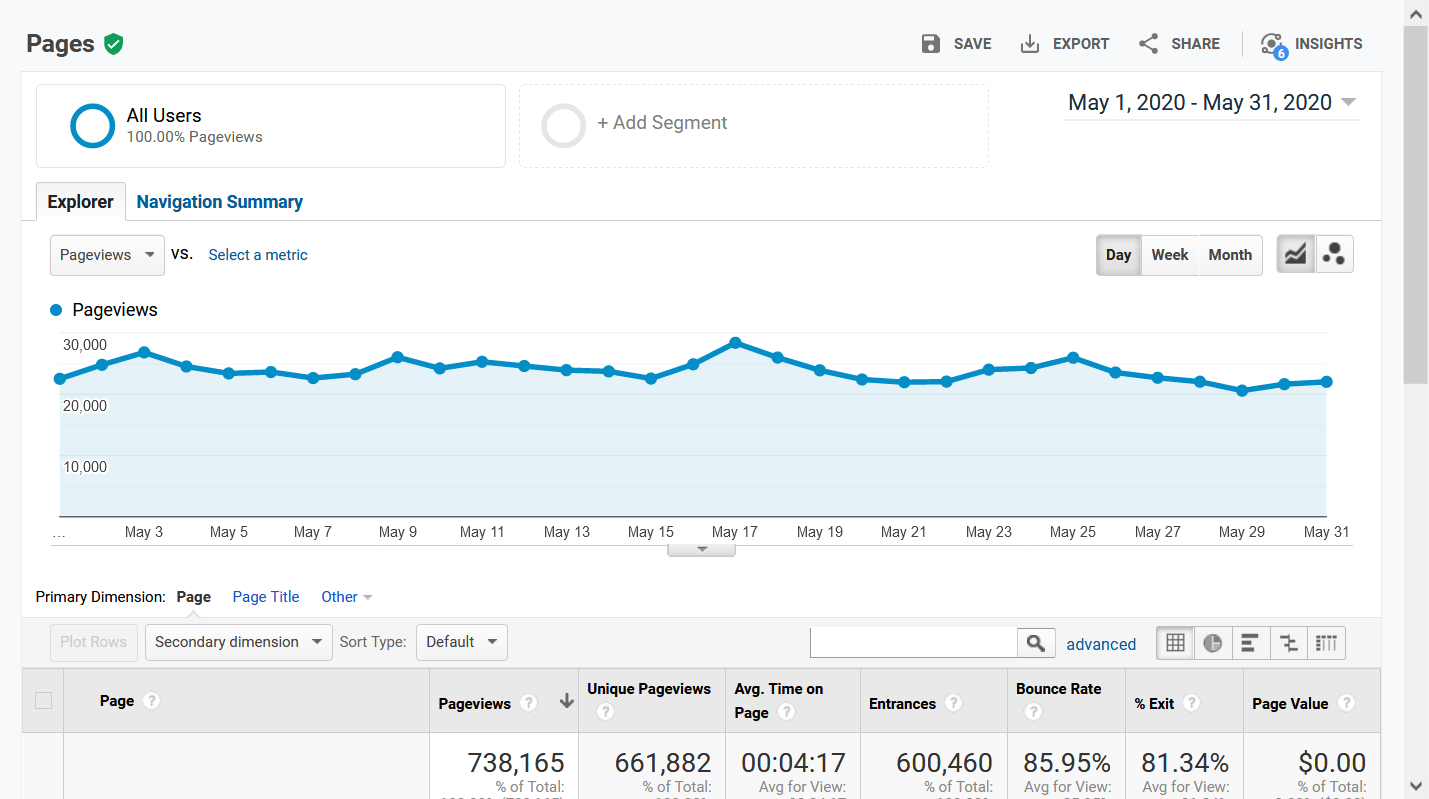 I'm not going to promise you a get rich quick solution. Slow and steady wins the race because SEO takes time. Once you have it though, it's long lasting and fairly passive.
It won't take you that much time to do the work (I just incorporate this method into the blog posts I'm doing…so maybe it takes an extra 30 minutes of work), but it can take a while before the search engines start to pay attention to your site.
If you get started now, it means that you will get closer to your end goal sooner. AND, it will save rework later.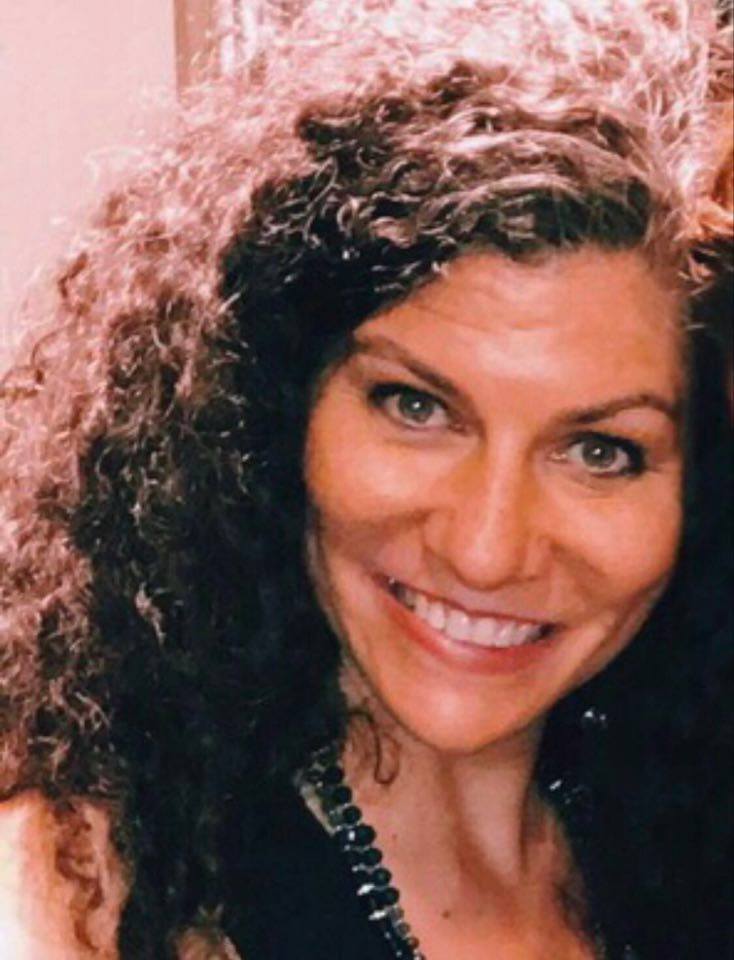 Debbie's Easy on Page SEO made it SO clear to me exactly what I needed to be doing to get my site "seen" by Google. I hadn't thought about it before, but the way I naturally right was NOT google friendly. My site is only a few months old but it's already starting to see a few page-views here and there from google and I know it's because I'm doing SEO right from the start!
C.J. Richard, FairyGardenDIY.com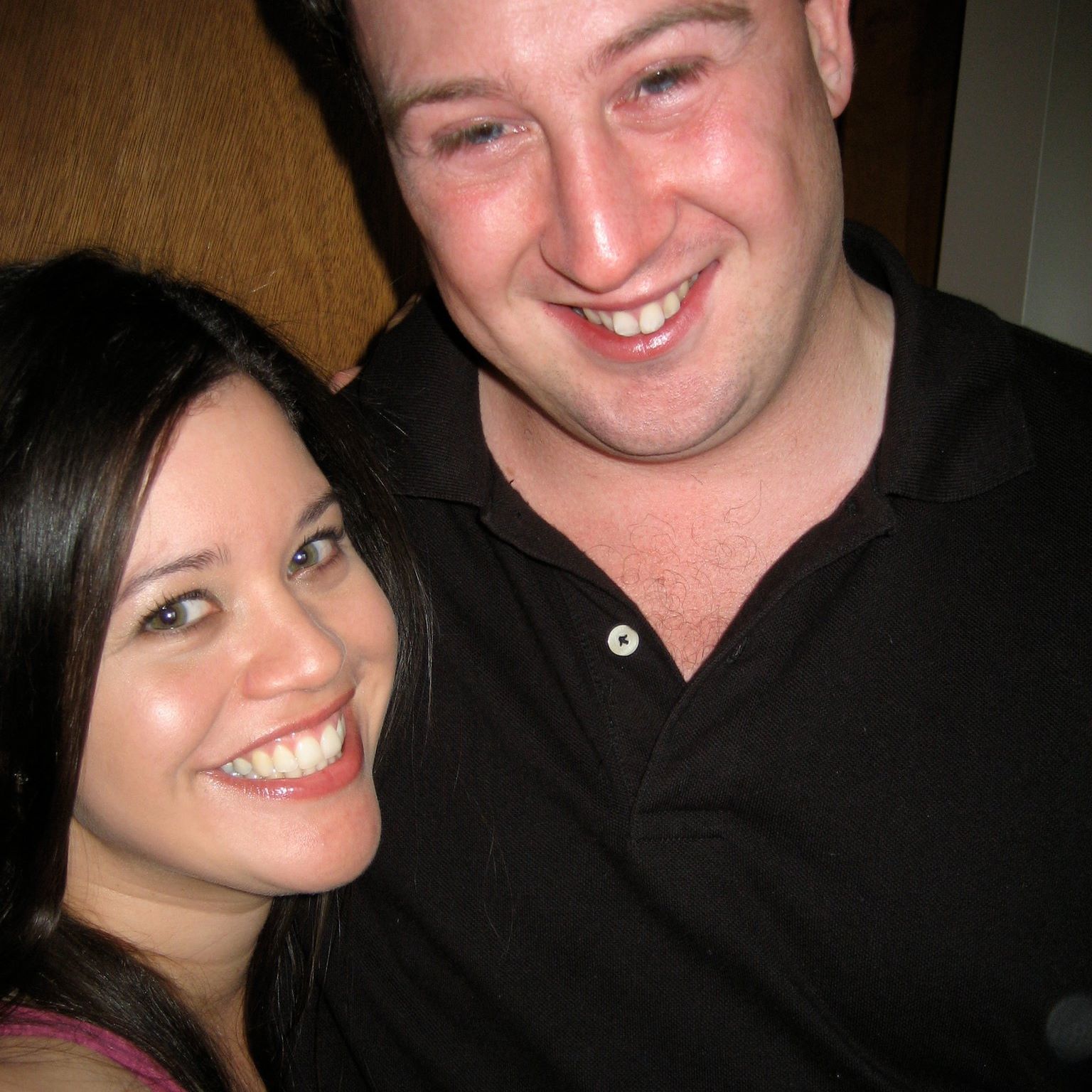 Last year, I invested in learning Debbie's SEO techniques and worked hard implementing them on my various websites. I had been doing it ALL wrong! Within a few months I started to see dramatic increases in traffic to my various sites. Some of my websites achieved 10X - 20X Google search traffic increases just from implementing SEO tactics that I learned from Debbie.
The quality of the traffic coming to my sites from Google search is so much higher quality it has skyrocketed my income from the sites from $5,000 to $50,000+ a month! I could not be more grateful to Debbie for her excellent teachings.
In my opinion, the books and courses that Debbie offers are the BEST investment that you can make for your blog or website traffic.
Russell Barbour,
UnconventionalProsperity.com
A little about me and my experience:
Three and a half years ago, I found myself $238,000 in debt without a means of income. I had to turn my life around and figure out how to keep my home.
I decided to adapt and monetize my existing home décor blog. SEO has been the key to my success and I was able to couple this with affiliate marketing to generate over $20,000 a month in a bit over 2 years.
Over 80% of my affiliate income comes from SEO traffic. I have been consistently making over $20K per month for the last 15 months. Now, I'm down to just $18,000 in debt (yes, I've paid off $220,000 in debt…and I'm almost there).
SEO has been the key. SEO traffic is much easier to monetize (and to grow an email list) and it has a compounding effect over time. It is much more stable (and profitable) vs Pinterest and other social media (although a combo is ideal).
I started my blog on a shoe string budget (as all of my money was going to pay my mortgage and my debt), so I had to be clever about how to grow, and SEO has been the ticket.
Plus, did I mention the bonuses?
Included in the ebook are two checklists:
The 12 Steps to Great On-page SEO

What to do AFTER You Hit Publish
These will help you optimize all of your posts going forward. Plus, use them to update older posts too!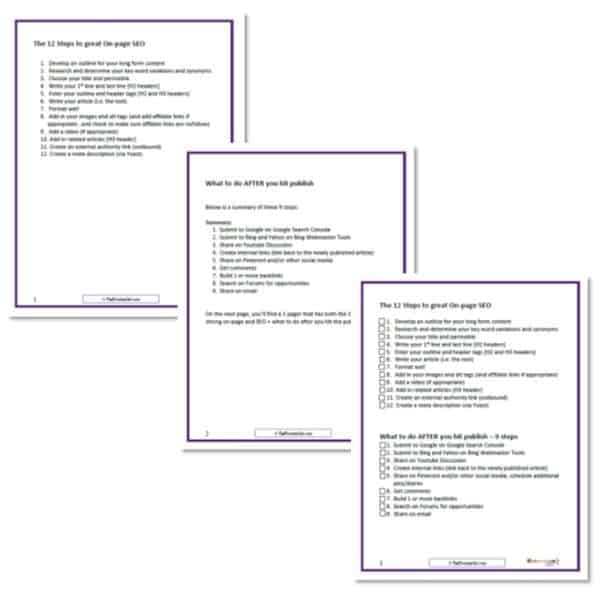 *These bonuses are included in the PDF of the ebook for your convenience.

Frequently Asked Questions
When does the course start and finish?
The course starts now and never ends! It is a completely self-paced online course - you decide when you start and when you finish. You can also download the ebook to your computer.
How long do I have access to the course?
How does lifetime access sound? After enrolling, you have unlimited access to this course for as long as you like - across any and all devices you own.
What if I am unhappy with the course?
We would never want you to be unhappy! If you are unsatisfied with your purchase, contact us in the first 30 days and we will give you a full refund.